My Story 

As an adult woman, wife and mother to two boys who has never had anything handed to her - you could say I am the product of perseverance.

As the daughter of a pilot, I've been a student of the world my entire life. I've played witness to the pyramids, Arabian Sea, Taj Mahal, Palace of Versaille, Eiffel Tower, English Channel, Caribbean Sea, Central American jungles and the Gulf of Mexico. Each destination brought with it a new dose of challenges, empathy and the discovery that there is so much more that binds us as humans than separates us as strangers.

I am a traveler and a soul-searcher, open to purpose and passions of all kinds - I actively seek out connections on a spiritual level. I am a student of, more than anything else, that which makes itself known to those open to its influence.

My own professional passions revolve around entrepreneurship, business development and professional mentoring. I believe networking is everything and that the power that can come from meeting and working with the right people is a force stronger than any degree or job title.

I don't believe that we are all the same, and I understand that we all learn differently - and that it is the desire to learn and grow that makes us truly human.

However, as an advocate for lifelong learning and education, I still embrace the chance to increase my ability to serve others. To this end, I have attained:

Bachelor of Arts, Counseling and Ministry, 2019

Spirit Junkie Master-class Level One and Two Trainings with Gabrielle Bernstein, 2014+2015

Journeyman status, Tile,  from the Province of Alberta, 2010

Various coaching and leadership modalities, including courses through Coaches Training Institute (CTI) Co-Active Coaching, Queen's University, and the University of Calgary

Bachelor's Degree from the Faculty of Communications and Culture at the University of Calgary, 2005




These credits do not define me, but they do showcase my ability to see things through to the end and to never grow stagnant in my desire to know more, so that I can do more. 




 
I am Jill Drader - and now that you know a little more about me - 
what I really want to know is more about you! Send me 
a note here
---



Awards + Media
---
Conference Board of Canada, Vancouver October 2016
Speaker for the Better Workplaces Conference 
Women and Leadership 
---
Calgary Arts Development Article, September 2016
---
Alberta Legislature, 
Introduced into Question Period, 2016
Introduced to the Honorable Premier of Alberta, Rachel Notely, by the Progressive Conservative Party for: 
Work with women in recovery from addictions and mental health, and women in construction across Canada
---
Distinguished Alumni, University of Calgary, 2016 
Named Distinguished Alumni for work in community since graduating in 2005 
Why the shoes pic? The award ceremony was held on a floor I helped install as a tile setter in 2009! 
---
Top 40 Under 40, 2014
Avenue Magazine Class of 2014 

---
Spirt Junkie Master Class, May Cause Miracles Facilitator 
Studied under Gabrielle Bernstein 
Completed Level 1 in NYC and Level 2 at Kripalu



---
Founder, Women in Work Boots, 2009
Became the largest digital network of women in skilled trades in Canada as a group that was not affiliated to any institute, government or organized labour network 
Advocated for more emphasis on women, trades and Entrepreneurship 
Developed Business in Work Boots as a coaching program, start-up course, and inspired the Junior Achievement program Entrepreneurial Trades (now a five-credit high school course for students to learn entrepreneurship + trades) 
Check out the Women in Work Boots Facebook Page here 
---
Junior Achievement, 
Entrepreneurial Trades

---
University of Alberta, Guest Lecturer, 2015
Women In STEM (Science, Technology, Engineering, Maths) full-day workshop/lecture 






---
SAIT School of Construction, Instructor/Curriculum Developer
  




---
Azuridge Ammolite Luxury Retreat Facilitator 


SheEO, 2015 Activator 
Joined Vicki Saunder's mission to change the way women entrepreneurs are funded 
To learn more about SheEO, follow this link






---
Oilfield Pulse, Articles 

---
Tech Girls Canada, Alberta Ambassador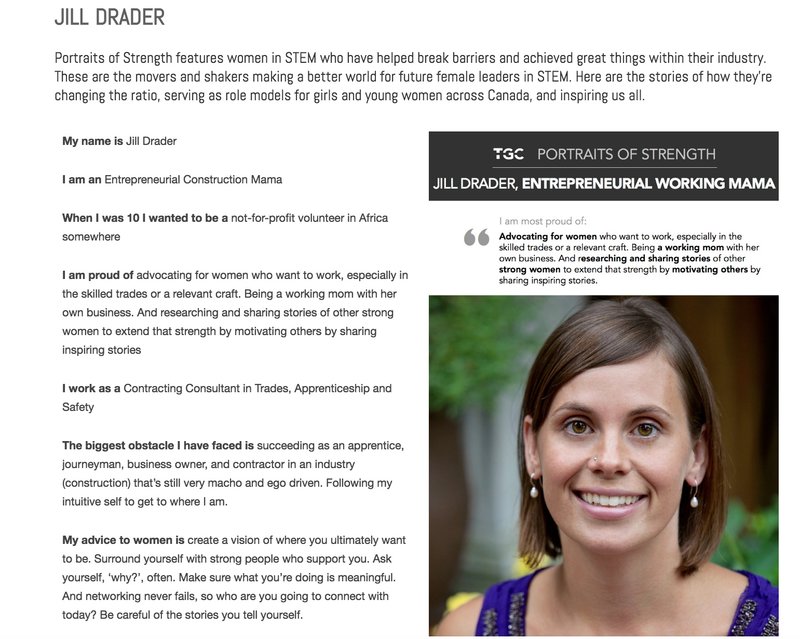 ---
Talks, Panels, and Publications 
Status of Women, Federal Government Department, Work with Women, Trade, and Entrepreneurship 
Edmonton Women's Show, Panel of Women in Construction